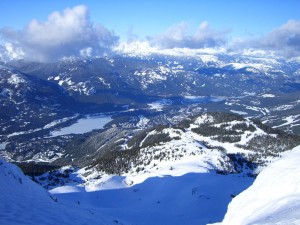 A few years ago my father and I planned a snowboarding trip to Whistler in British Columbia.  Because it was peak season and the conditions were mint we decided to make accommodation reservations at the resort.  A relative decided to help us out by offering his standby privileges as an airline employee.  In his letter of instruction he told us to wear suits in order to secure first class seating if the coach was filled.  We drove to Toronto Pearson Airport, dressed in our suits and ready to hit the slopes!
When we arrived we were told that the first flight was full.  Our letter of instruction told us that this might happen, but we were confident that we would secure a place on one of the next two flights.  The next flight arrived… and left.  After eight hours of waiting in the airport dressed in our suits, we approached the desk regarding the final flight.  FULL!
Ironically the final line in our letter said:
"P.S. Don't tell the other passengers about the amazing deal you received on the flight".
I wanted so badly to tell them about my AMAZING DEAL, but they were already on a plane flying to British Colombia!  And they were about to get an amazing deal at Whistler on a reservation cancellation from which we lost $ 260.00.
I vowed on that day to never fly standby again.  You might have flown standby with some success, and you may even enjoy waiting around in airports in order to save a buck.  But I don't leave my vacations to chance.  When I arrive at the airport, I want to see my name in that computer, and I want to know that I will be on that flight.
There is another place where I want to be sure my name is written.  It is a book that the Bible calls "The Lamb's Book of Life".  This book contains the names of all those who have been saved from their lives of sin, through their trust in  Jesus Christ (God's sacrificial lamb).  DO NOT leave this to chance!  Put your trust in the Savior Jesus Christ who died on the cross to pay the penalty of your sins.  And remember that salvation is free, it will cost you nothing, but following Jesus will cost you everything.